Was it a dream? I had slept on both flights so that's what it was feeling like. I had gone to sleep by the ocean and woken up in what looked more like the desert. Stark, dry, red and gold desert, all dotted with scrubby brush. My favorite landscape, so it must have been a dream because I had woken up in my own paradise. I got off the plane and it was hot, but not too hot. The sun was bright as it melted me out of my grogginess. My phone buzzed and told me "welcome to Mexico."
Beautiful Mexico. So many times I had been so close to it and never gotten to visit this country's shores. My time was NOW! First trip of 2019 called for a bachelorette celebration in Cabo San Lucas at the southern end of the Baja California Peninsula on the west coast of Mexico. A literal desert, brimmed by the Pacific Ocean. The best of both worlds. I was travelling with my tribe: Traci and Kayla. Kayla is getting ready to be married and we gals took five days to get away from our guys, jobs, gyms, and beloved dogs and children. The mission was to commune in our sacred female tribe to give the baby of us all of our sage advice, warnings, and well wishes for her marriage. And to tell her to run…. Just kidding; that's not how we feel!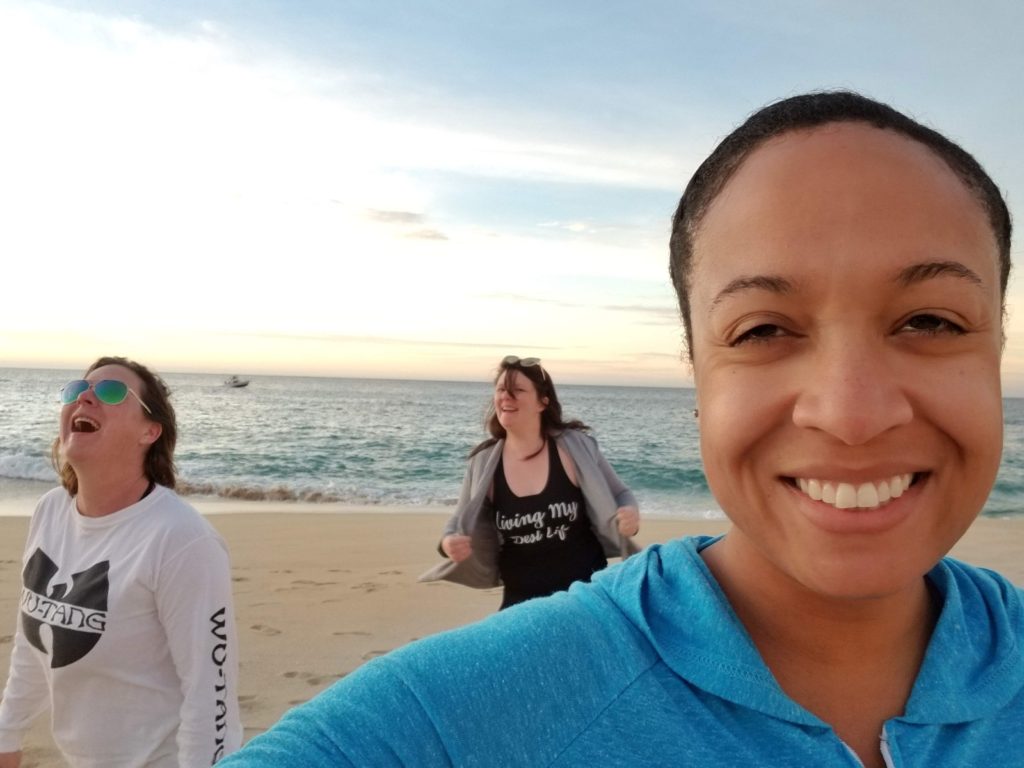 With the help of my Vacation Savior (see my last post here), we booked our time at the Pueblo Bonito Pacifica Resort. It is seculded, adults only, mid-sized, and right smack on a sparkling, pristine, private beach. The resort is footprinted along the water in such a way as so you can watch both the sunrise and the sunset. Glorious.
When arriving at Pacifica we were greeted with a cocktail in the atrium lobby, alongside a water feature. Despite a bit of an influx of arrivals, the water and the sun and the cocktail relaxed us into vacation mode. This resort has an upscale feel. Their cleanliness, consistency, attentiveness and amenities make you feel very comfortable. As you walk the grounds landscaped with native plants, you'll even see the designs raked into the sand every morning by a meticulous and creative landscaper.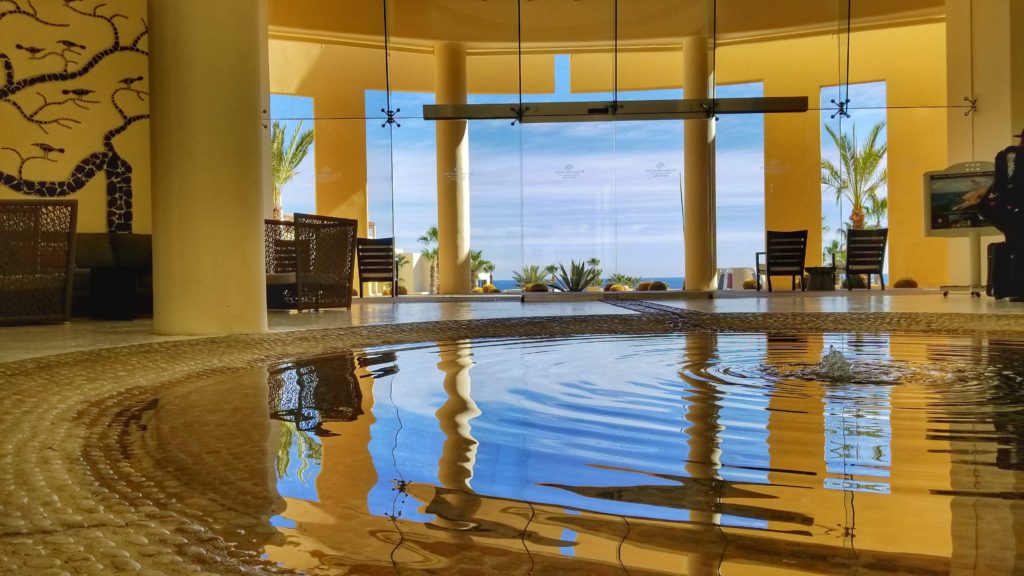 After being escorted to our room, our jaws dropped at the view – not a bad balcony in the whole place. The rooms are lovely and recently renovated. Stone basins in the bathroom, a stocked fridge, flat screen tv, comfy beds, and even a pillow menu if you are particular about resting your head. The balcony had cushy seating and a thoughtful drying rack for swimsuits. We looked out onto the pools and the ocean beyond. Seriously, there was just nothing to complain about in the rooms.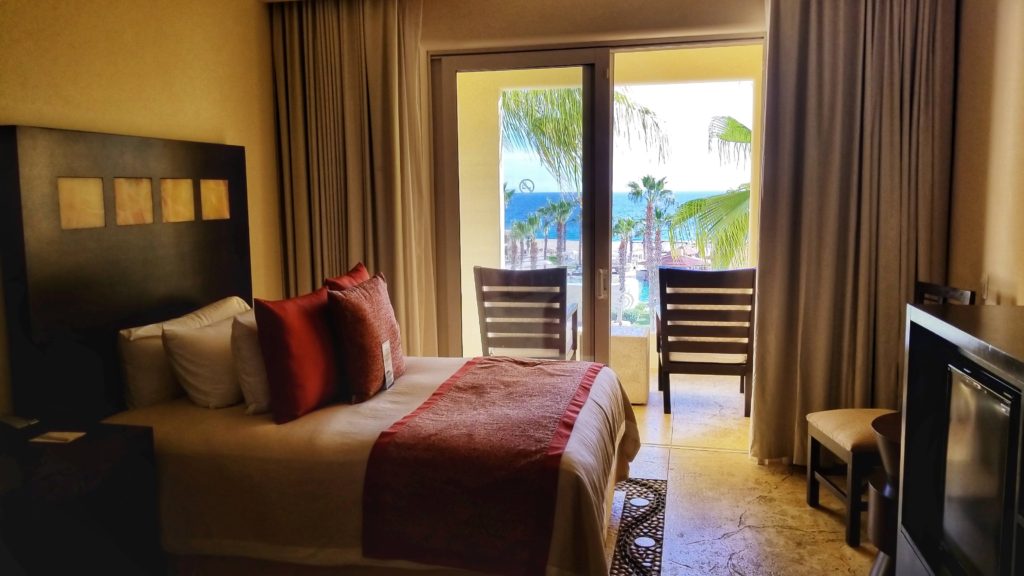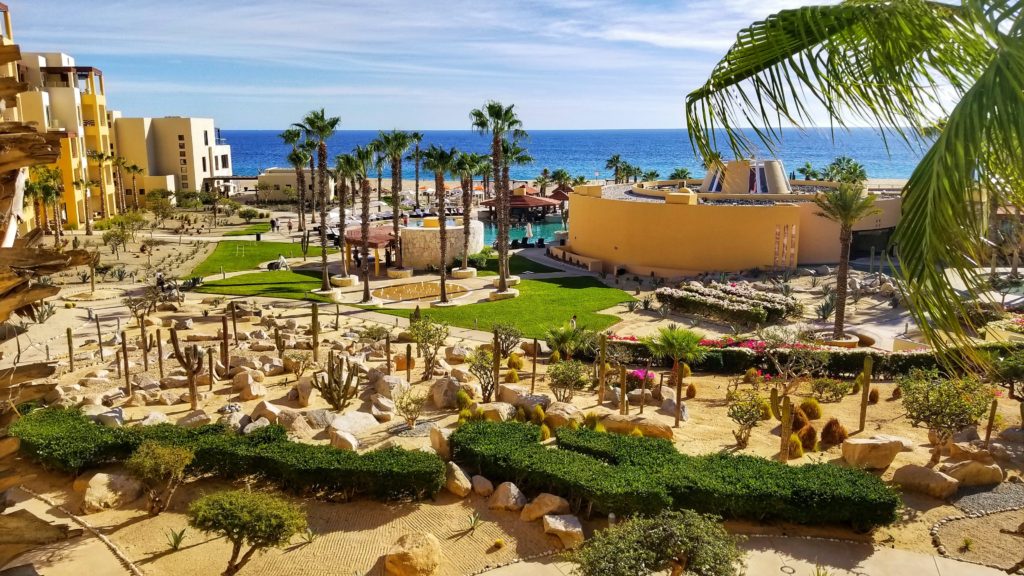 First order of business was to investigate the pools. Pacifica has two of them plus a hot tub. One pools gives you eyes on the ocean and the journey of the sun. The other pool has a swim up bar and an afternoon party vibe with the Aire Restaurant and Aquabar. And don't forget the hottub. It's a small one, but with such warm weather in that part of Mexico, there's not much of a need for long soaks. I preferred the ocean view pool and it's calmer vibe, lending to chats and reading and poolside naps, where the smell of sunscreen and sand stays in your nose making your sleep extra luxurious. That's just my preference. If you thing is a barstool in the water where you can watch the game while someone in a crisp embroidered shirt makes you a fresh margarita, then Pacifica has just what you're looking for as well. A nice touch at the resort was a Mexican artisan from Rio Papagayo named Nicolas, who had a cart set up poolside where he sold hand painted wooden and ceramic kitchenware and other sundries that he makes himself – a super special gift option to bring home!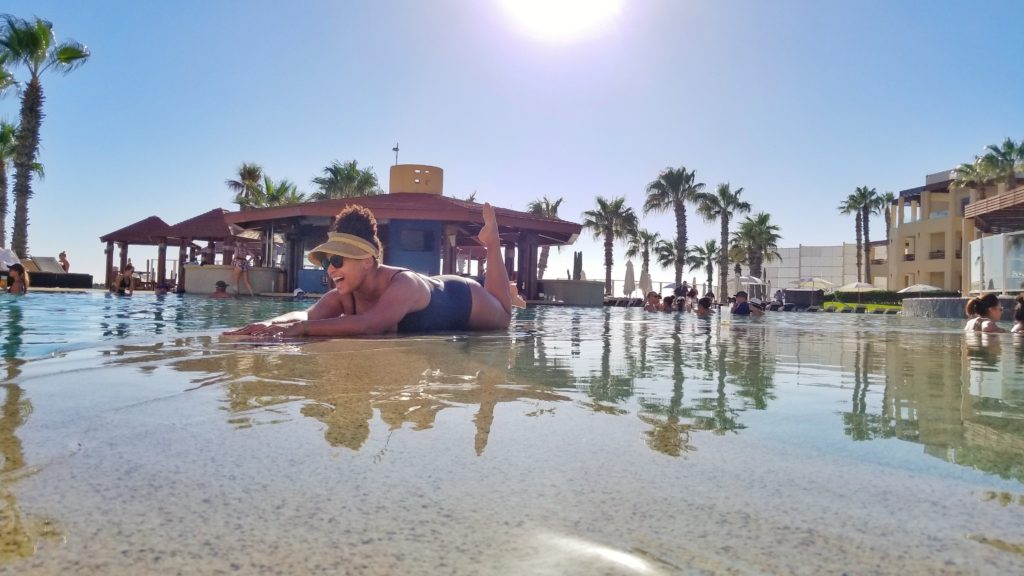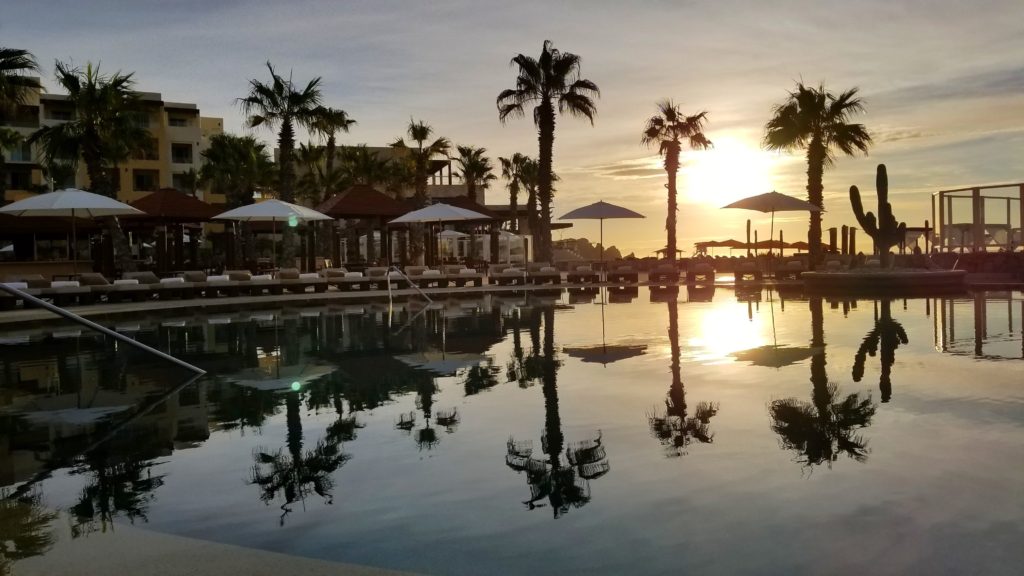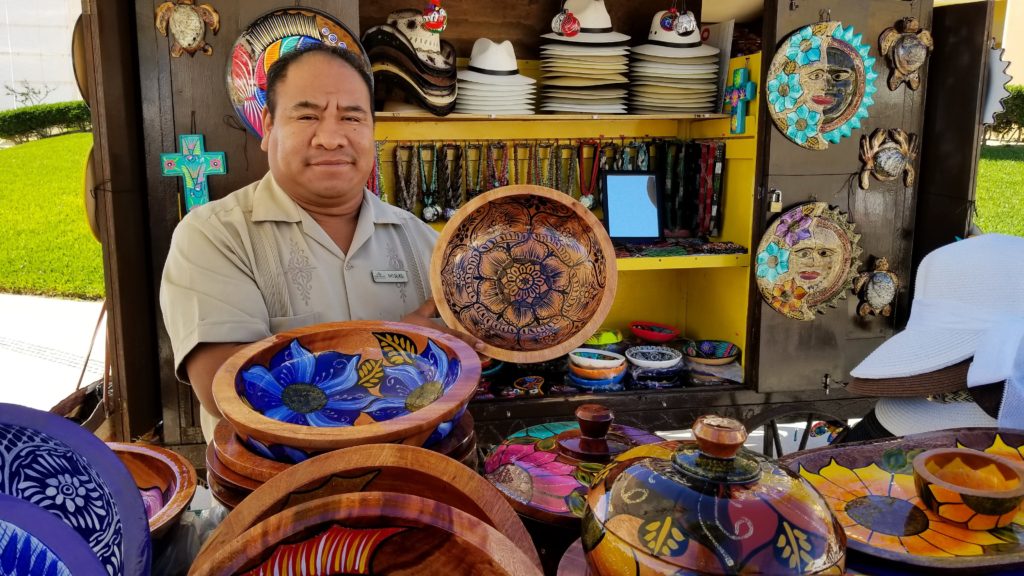 There are three restaurants on the property, and with the all inclusive option, we ladies tried them all. Sunday champagne brunch at Siempre was my favorite meal of the trip. I'm not crazy about buffets, but the Viennese spread along with the hangover station had me, like, "I'll have what I'm having, thank you very much." And there was the most charming woman making made to order Mexican specialties. Her name was Dora, she was from Puebla City, and I was happy to see her every morning. We did breakfast at Siempre every day, and dinner there once. However, I would not do the dinner again, it was just an overall disappointment from the food to the service.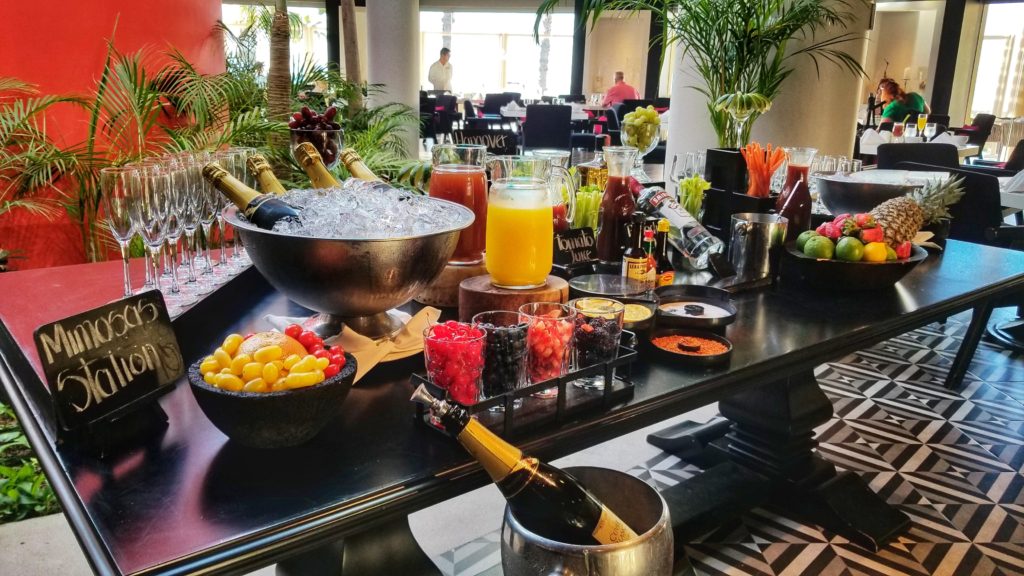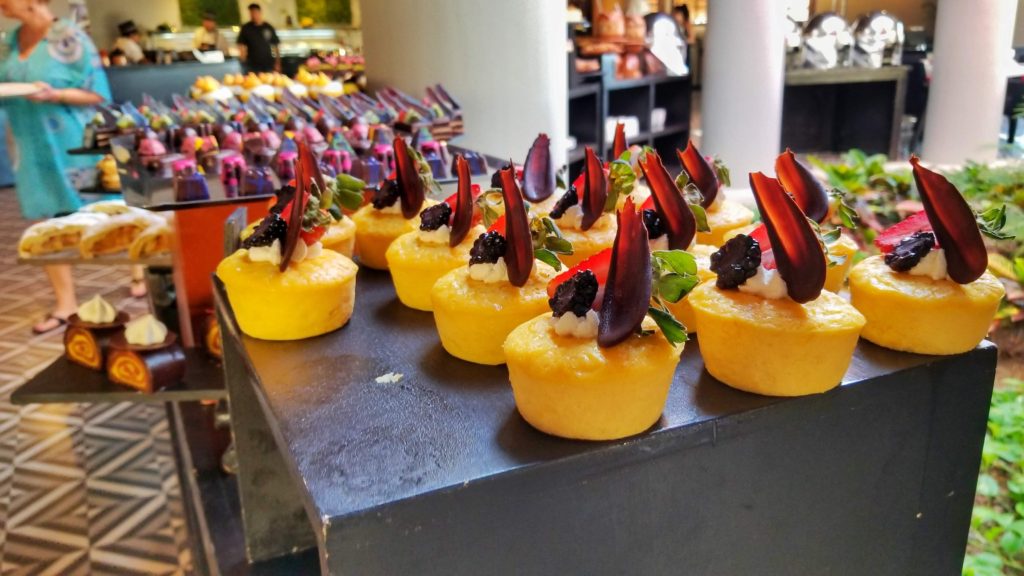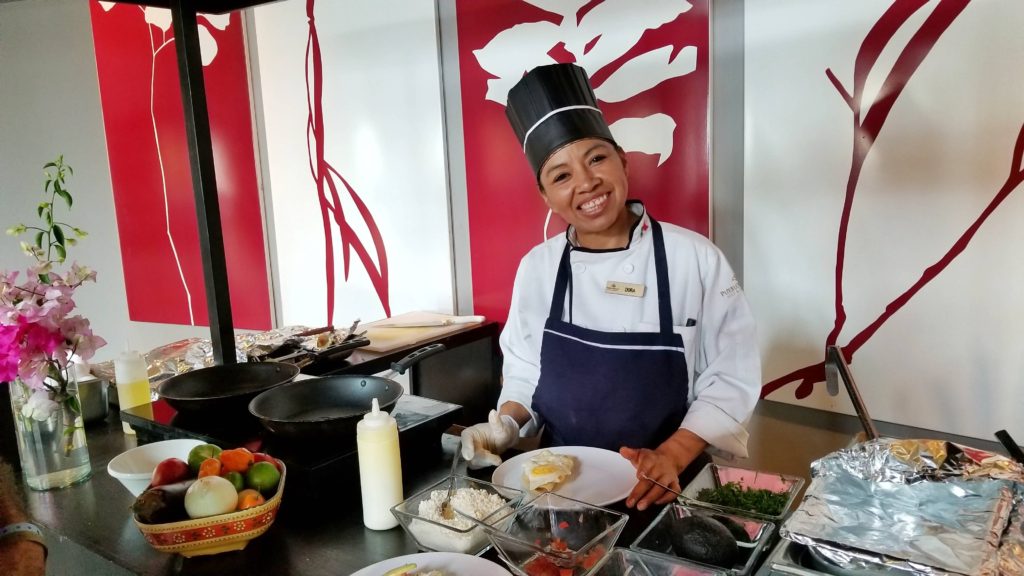 Next on my tops list was sushi at Pescados. Obviously, sushi was not on my "must eat while in Mexico" list, but it did not disappoint. Nothing was crazy out there or exotic, but the fish was all super fresh and rolls and sashimi were very nicely done. The Peninsula restaurant is the fine dining option on the resort. The food was good, but not great and though service was slow, everyone was extremely nice and professional. And, going the all inclusive route, I was glad to have a fancy dinner, and the house sparkling wine was an agreeable option for the duration of the meal.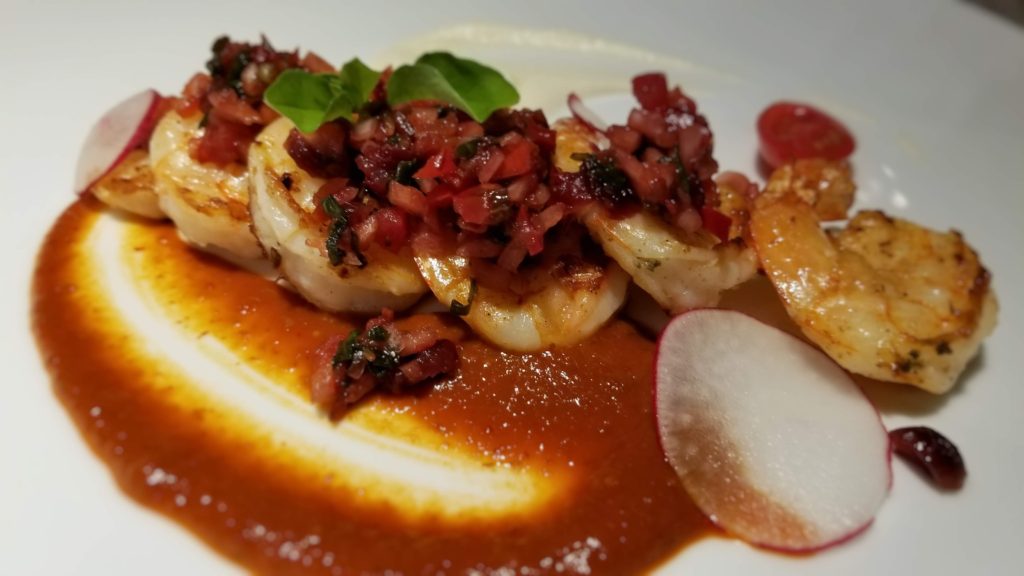 Not to be forgotten is the 24 hour room service option as well as the poolside menu. There is no lack of food or beverage. And the best bar on the resort is the one outside of Peninsula – have Amado make you a spicy margarita while you watch the sunset.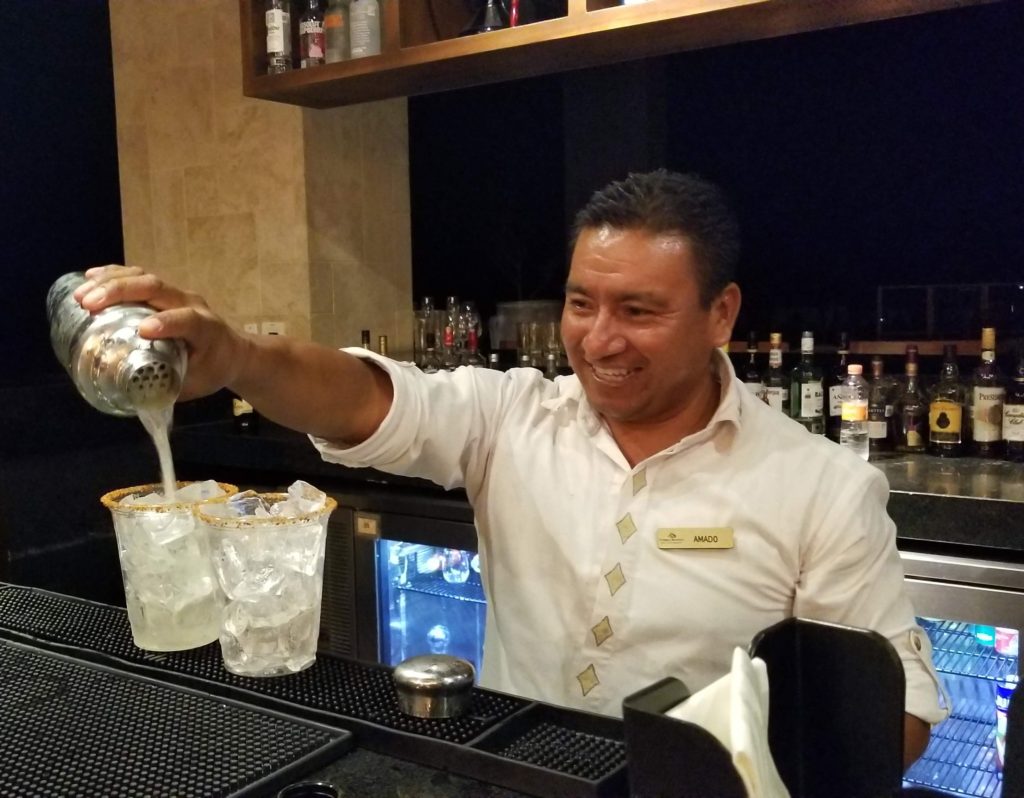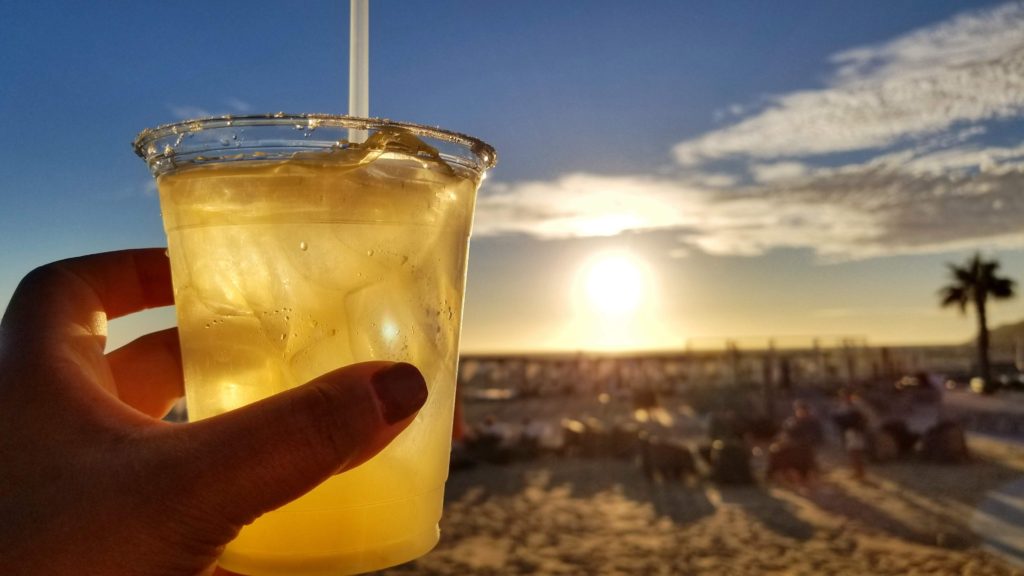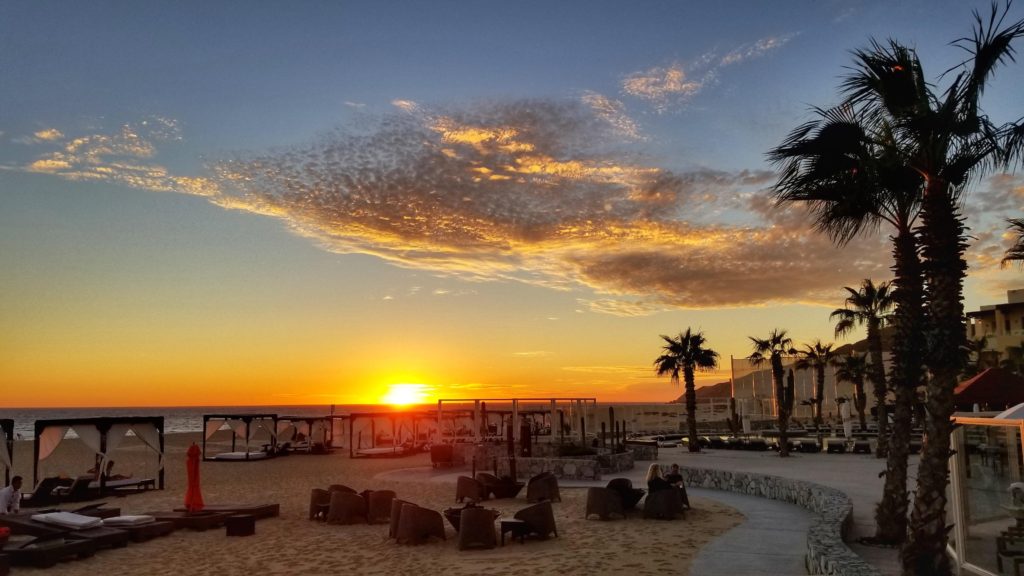 To combat all of the food and drink you consume, there is a nice fitness facility on the property. It's small, but was never crowded. Best part were the class options. Sunrise yoga on the beach, spinning, pilates, water aerobics and more. Most classes were taught by the fitness manager, Gabriel, who has Mexican and Italian heritage. I was happy to speak the little bit of Italian that I know while he listened to me trip over my words with a plethora of patience. If you are a gym goer or you know you'll need your exercise on vacation, there is plenty to do at Pacifica. There is also a top notch golf course.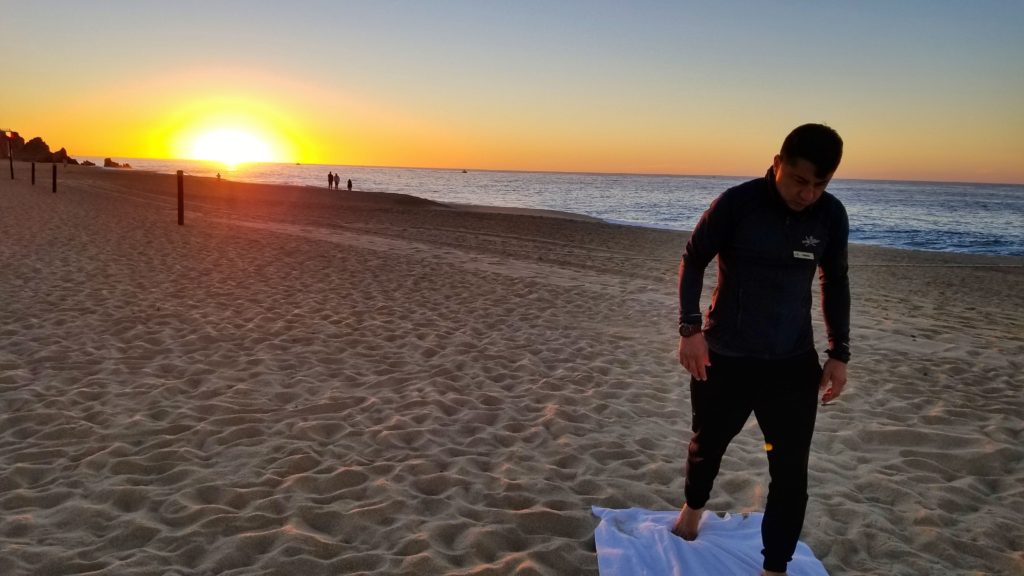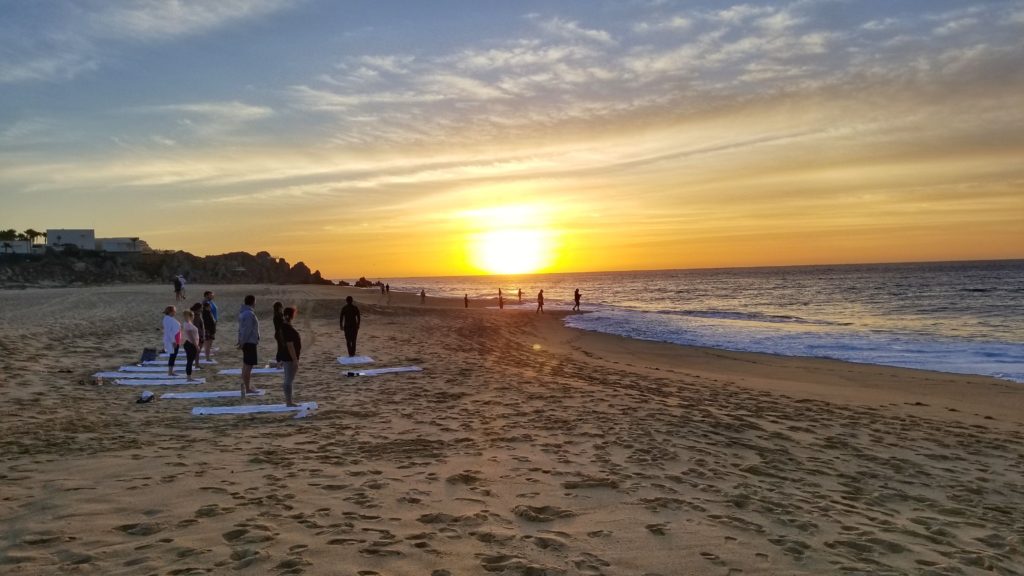 The highlight of my stay at the Pacifica had to have been the beach. It was amazing to have a nightcap while listening to the waves, or do sun salutations while you get sand in your hair. Even though the riptides on this part of the coast are too strong to allow for swimming in ocean (my one real complaint about the resort), the beach walk was stellar. And the pièce de résistance was most definitely the whales. Every day, I would look out at the sea and get to watch baby whales and their mamas at play, leaping and breaching out of the water. It was amazing and the most wonderful surprise to the trip.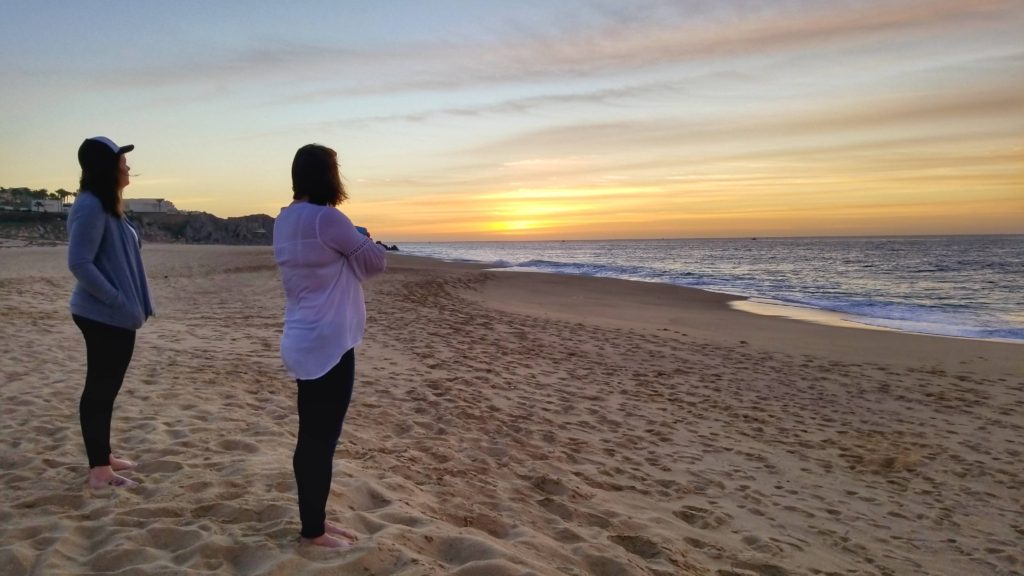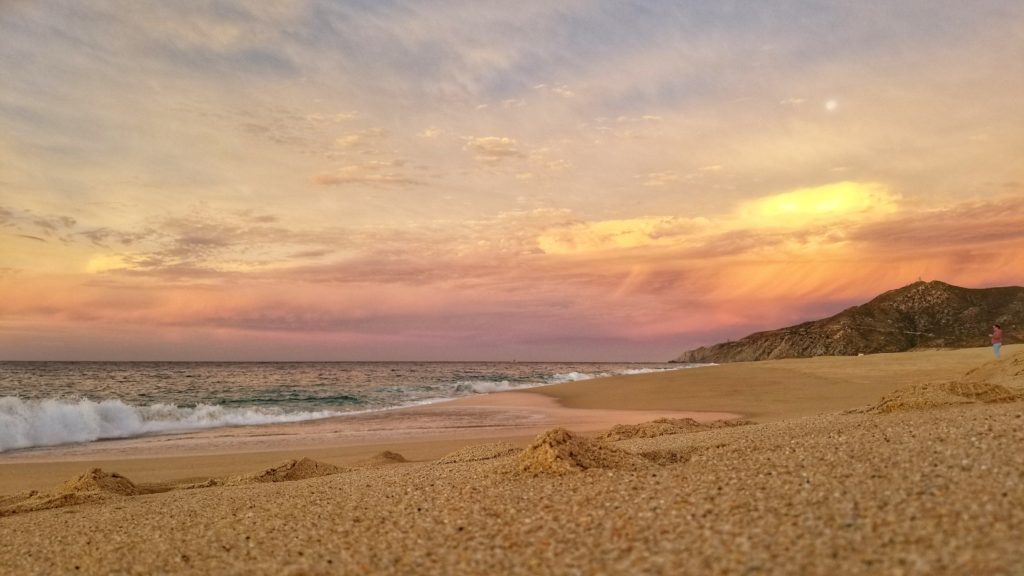 Next time I visit Cabo San Lucas I most definitely plan on visiting the marina and the downtown area to get some local flare, however, I would be more than happy to stay at the Pueblo Bonito Pacific Resort again. The value was solid, the hotel was lovely, the service was great. Everywhere you go there was a smiling face of a staff member, a drink being brought to you, or a friend to be made and a story to be heard. I look forward to my next stay, along with Dora making me chilaquiles.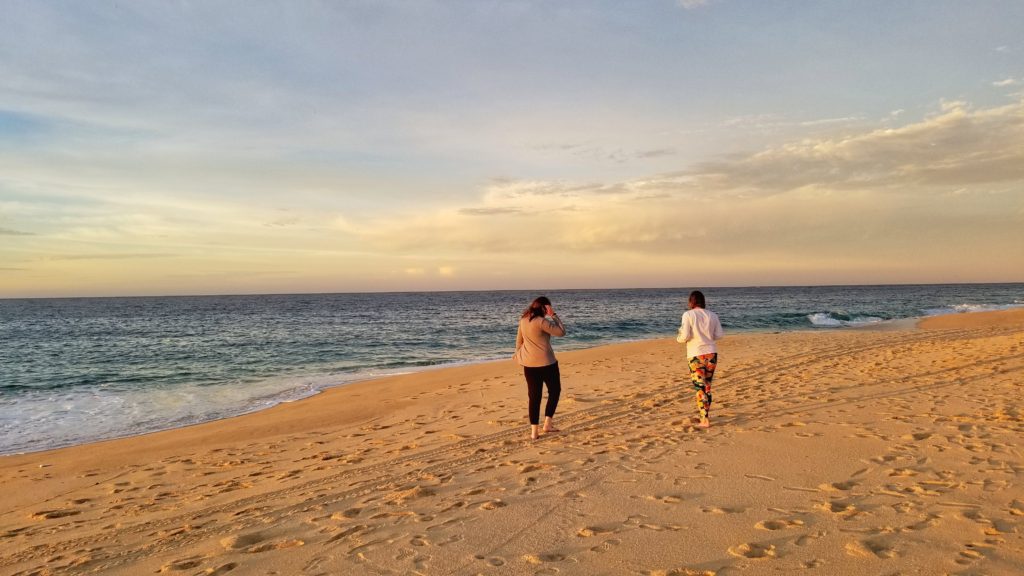 Check out the gallery below for more images of Pueblo Bonito Pacifica!